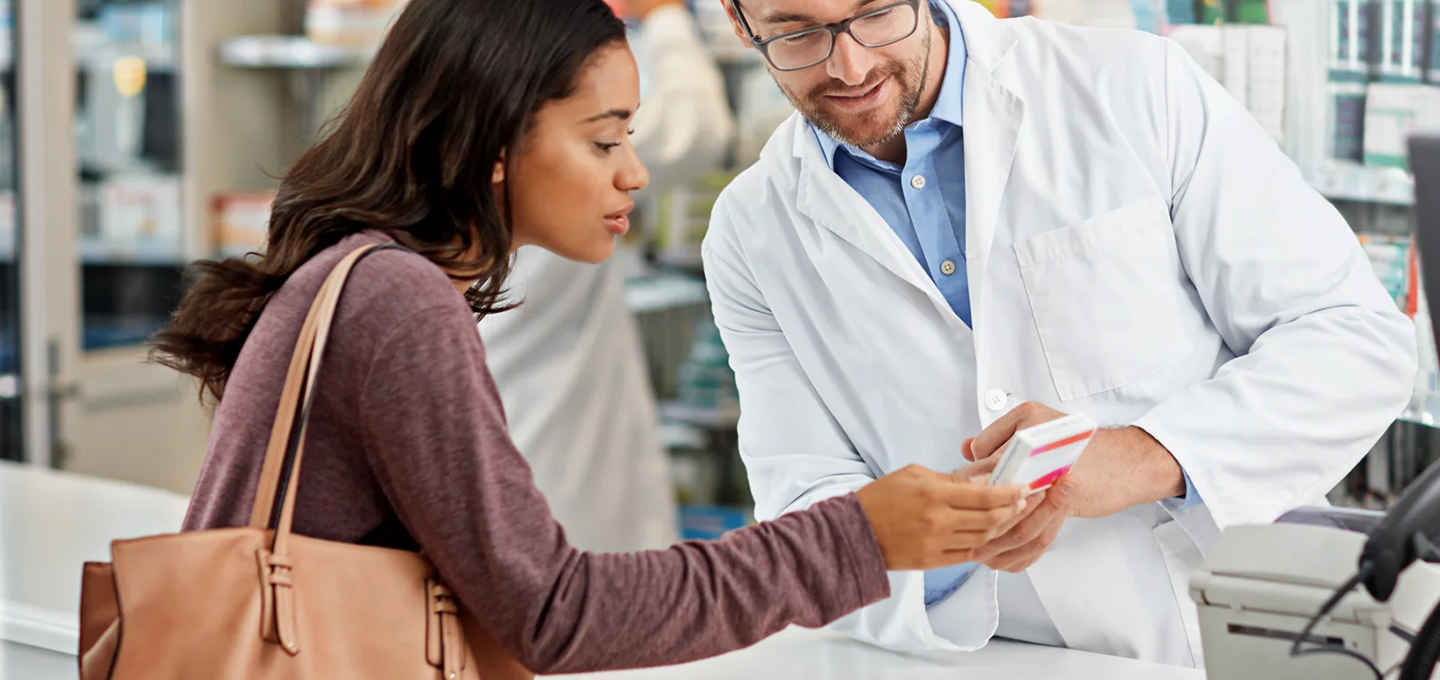 Retail pharmacies know the pharmacist's role is evolving and understand that it should. They know pharmacists must act differently to meet healthcare consumers' expectations, and as more retailers offer healthcare services, pharmacists are being asked to play a much more significant role in the health and well-being of their patients. Pharmacists' role in the experience is critical to compete with online drug services and capture market opportunity and growth. The problem is that no one's figured out:
What the ideal day-to-day looks like for a consumer-focused retail pharmacist.
How to get there.
There's no blueprint for adjusting operations to enable the evolution we know needs to happen. We're in new territory. The problem is well understood, but solutions are varying and amorphous. Below, Point B reframes some core challenges as the source for solutions.


The Consumer and Retail Pharmacist's Experience Are Parallel
On-the-ground retail pharmacists are unhappy. They're overworked and understaffed, and while technology can be an enabler, it's often a barrier. Pharmacists are quitting in droves, and the talent pipeline is bare. Some retailers monitor their pharmacists and optimize with a lens of operational efficiency, but this creates a poor customer experience. And when the customer experience is disgruntled, you're unlikely to fulfill your value proposition and brand promise.
Investing in the ideal retail healthcare customer experience is a parallel path to improving the pharmacist experience and job satisfaction.
The pharmacist's role is critical as retailers bridge into health. But where do you start?
Reimagining the Consumer Experience
Know your customer. Designing an improved experience for your customers starts with knowing who they are and what they care about. Ethnographic research, focus groups, and other types of primary research are a great way to uncover these insights. Rich data across existing and prospective customers on what they want from your ecosystem provides a foundation for understanding what they need to feel that their health matters to a retailer.
With deep customer insights in hand, align that data with your strategy. Who's your target customer? How are you uniquely able to support them? Don't get too far from who you are and want to be to your customers. So many possibilities exist with retail's entrance into the healthcare market – it may be tempting to try and serve everyone.
When taking an agile test-and-learn approach, designing new experiences rooted in real situations is critical. For instance, many consumers need basic care after clinics are closed. There's an opportunity to create awareness and a better experience for finding care through a retail pharmacy via app or online experience that's open after typical business hours. Be thoughtful about what and where you want to test for experiential feedback. Nothing is more valuable than testing, iterating, and testing again in your store setting. Any adopted changes are often rolled out on a regional or small-scale basis, so start getting real-life feedback early.
As the ideal experience takes shape, start thinking about how you need to shift your operations to create that experience. This means looking at each opportunity across several dimensions to understand where the best investments can be made. Maybe you're lucky and have unlimited resources to build the dream experience, but we've never witnessed that ourselves. There are always limitations, so ask yourself these questions across each opportunity:
What's the ultimate impact you want to achieve?
How easy or difficult is it to accomplish?
What new resources are required?
What existing resources could be reallocated?
Shifting the Mindset From Transaction to Service
Executives often think about changing operations and advancing technology when considering how to make the role of the pharmacist more customer-centric. But improving health and wellness is rooted in service and changing behavior, not a series of transactions. It requires a cultural shift.
Going back to the pharmacist perspective, what's their workplace experience? Do they understand their new role in the context of your mission and vision? Do they know what behaviors and interactions are expected of them when engaging with a customer-patient? Are they set up for success? Are actions and decisions at the top supporting or detracting from the vision?
Workforce culture is much more amorphous and difficult to change. And we empathize because it's a challenge that every company experiences. After all, it's much easier to adjust operations than the hearts and minds of a workforce, but the latter is just as important.
Based on a recent survey, healthcare consumers want their pharmacists to provide more in the following areas:
Education on diseases and conditions
Other basic services of primary care
One-to-one health and medication consultations
Vaccine administration
Cost-saving tips on their prescriptions
Our customers want their pharmacists working at "the top of their license", meaning that pharmacists are qualified and able to care for healthcare consumers. It's time to elevate them by creating space for them to go beyond today's expectations.


Extending Service Into the Digital World
The things healthcare consumers want from their pharmacies extend beyond the in-store experience. Retail is set up in silos, both in their stores and across their digital experiences. That's served them well as it helped customers navigate their disparate needs at a one-stop-shop. Healthcare is now about a seamless, integrated experience where jumping between an in-person and digital experience isn't noticed or felt. The two should complement each other and be interwoven.
Consumers can now grocery shop, replace their tires, fill a prescription, and check their vision in the same location. Yet the physical and digital experiences are separate. Each department looks and feels different from the brand, and each has a section on its site that doesn't connect to the others.
Healthcare is now about a seamless, integrated experience where jumping between an in-person and digital experience isn't noticed or felt. The two should complement each other and be interwoven.
Retailers must think about health and wellness as an integrated piece of the overall experience. Start weaving these services into your greater mission and purpose – and design with the user in mind. The goal is to create a frictionless experience from home to store because it reduces customer confusion and stress for pharmacists.
Incremental Change is Not The Answer
This change is going to take an extensive assessment and shift.
Retailers have "6 Sigma-ed" pharmacy operations to death. A fraction of a minute in a process doesn't address the main pain point: unhappy pharmacists are unable to support healthcare consumers in meaningful ways. We see this happening at big retailers who retort, "our operations are incredibly efficient." That's true, but so is their low customer and employee satisfaction.
Operational efficiency is important, but it's only one side of the coin. On the other is the human supporting customers that approach the pharmacy window. They need to feel supported themselves to provide your ideal healthcare consumer experience.
How healthcare is accessed and delivered to consumers is changing. Today is an opportunity to be bold in your change!
Key takeaways: Actions that lead to change
Start with research and insights on what your customers want from their retail pharmacy.
Don't stray far from your core brand, mission, and purpose.
Remember, change is more than operational efficiency; it's also culture and employee experience.
Shift your mindset from transactions to ongoing service.
Be bold – the market is ready for it.