Discover the Possible
Generative AI offers immense possibilities, from content creation to complex problem-solving. And intelligent automation can help maximize efficiency and ensure your people can focus on their highest-value work. But it's not all plug-and-play. Success requires expertise, careful data management, an effective business strategy, user engagement planning, and a test & learn approach that helps you hone-in on use cases that provide tangible results. Achieving these outcomes requires a partner able to connect technical expertise with a strong track record of executing and creating real-world change.
Knowing where to begin is the hardest part. Our AI & Automation Accelerator is your path to discover, test, and scale AI and Automation technologies that will level-up your business.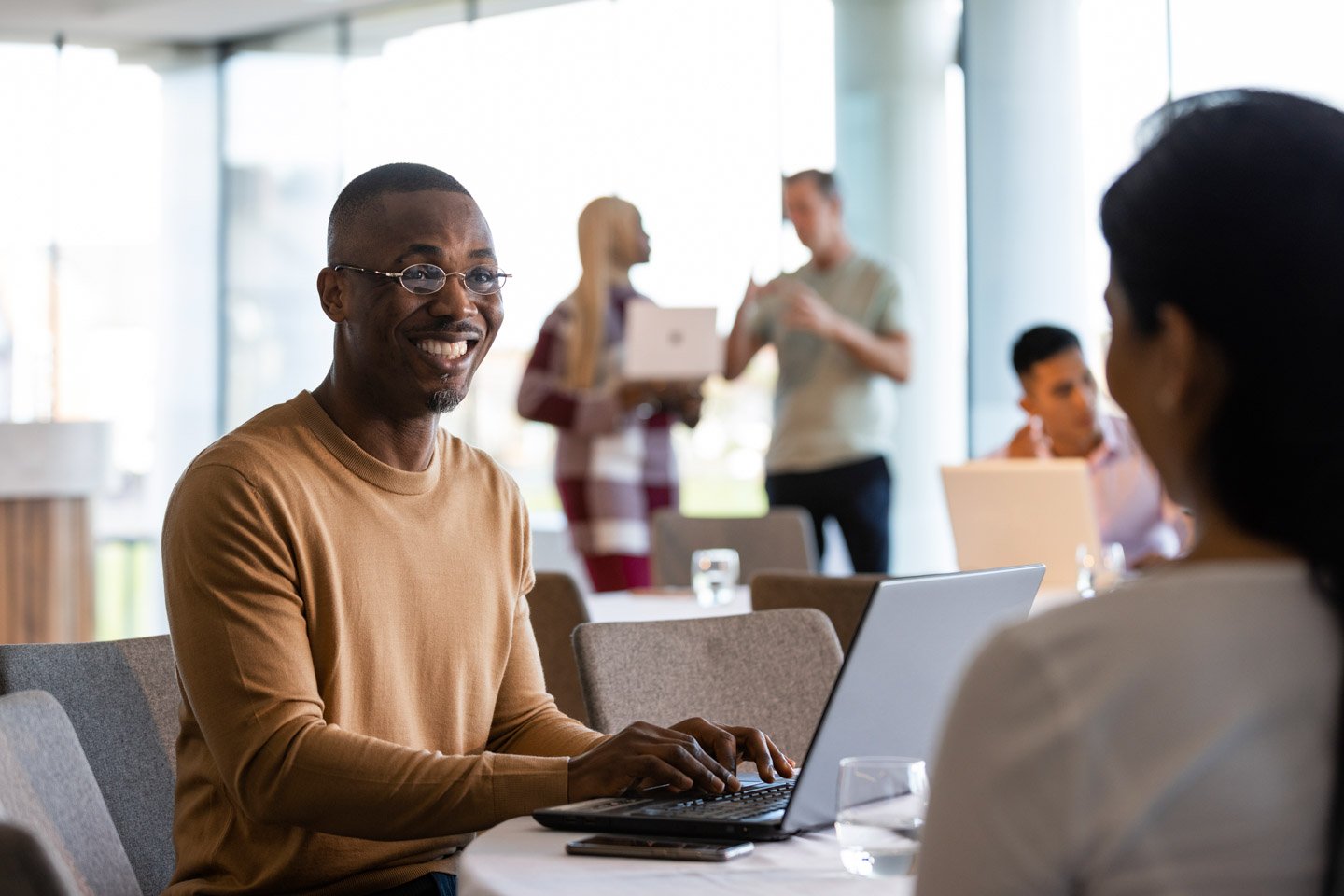 Introducing Point B's AI & Automation Accelerator
Maximize your ability to discover value-generating AI and automation solutions by partnering with us on a two-week Design Sprint. Point B's Co-Innovation Framework integrates data, design, development, domain expertise, and emerging tech into a single approach that helps you quickly identify ways to apply AI and Automation tools to drive meaningful value. Start by setting the focus of the sprint on what matters most to you. From there, our experts will explore a wide spectrum of possibilities with you and arrive at ways to amplify your impact.
Discover what's possible and uncover your organization's best use cases for the application of Generative AI and Large Language Models.
2
Collaboration & Automation
Learn how to leverage the tools and tech you've already invested in to solve your specific business problems.
3
Custom Decision Intelligence & Automation Solutions
Ideate solutions without constraints and find ways to augment decisions and automate key processes by building decision intelligence and automation apps, custom-fit for you.
This fast, focused Accelerator works best with 2-4 of your most enthusiastic team members looking to do any of following:
Streamline operations, improve process quality, or scale
Utilize new and emerging technologies
Continue (or restart) momentum on prior AI or Automation initiatives
Build a business case and assess ROI potential on the adoption of new tech
Collaborate, innovate, and test new concepts together
Our experts will lead your Accelerator participants in highly collaborative work sessions. We root our proven Co-Innovation methodology in Human Centered Design (HCD) and Design Thinking concepts designed to engage and inspire. At the end of the Design Sprint, your people will be able to:
Identify tangible use cases that can be enhanced with appropriate AI and/or Automation tools
Deliver a working proof-of-concept
Create a path forward to scale and adopt solutions that will return positive ROI for your organization


How the Accelerator Works
Curating concepts with a focus on viability and value
Discover how working at the intersection of expertise, industry insights, and transformative technology can accelerate your new products, services, experiences, and businesses.
Our AI & Automation Accelerator leverages Point B's Co-Innovation framework to quickly organize the experience, insights, tools, and processes needed to solve business problems in new ways. Our innovation leads, technical architects, and domain experts facilitate highly collaborative design sprints to ideate, vet concepts for viability and value, then build working prototypes to further test and explore what's possible. At the end of your short sprint, you and your team will gain an expanded understanding of emerging technologies and their application to your business, a backlog and roadmap of future use cases to explore, and a working proof-of-concept.
AI and Automation can Help you Reach Your Goals, Faster 
Improve consumer engagement and satisfaction by leveraging AI and Natural Language Processing (NLP) to score vast amounts of unstructured data sets into discernable consumer sentiment insights that drive action related to product design, feature, packaging, and promotions.
Boost teams' productivity by leveraging Generative AI to automate routine program management tasks — including status reporting, risk and issue identification, and root cause analyses.
Eliminate cumbersome, error-prone manual activities. Improve your customer experience while reducing costs by applying AI and automation tools that streamline customer order intake.
Enrich frontline worker knowledge by using Generative AI to convert common language inputs into SQL prompts. Share the power of data and custom insights with your employees – at scale.
Expertise to go Beyond
Extend your vision with Point B's AI & Automation experts. As your partner, they'll apply deep, cross-industry expertise to help you navigate your organization through complex challenges and achieve the change you seek.
34%
Increase in automation potential for expertise-based tasks

12%
Productivity lift for R&D functions that rely on creativity and expertise

14%
Productivity increase for customer service employees

~50%
Tech executives planning for AI as #1 budget priority

Insights
Browse strategic advice from our industry leaders designed to help complex organizations use AI & Automation to transform their consumer and employee experiences.