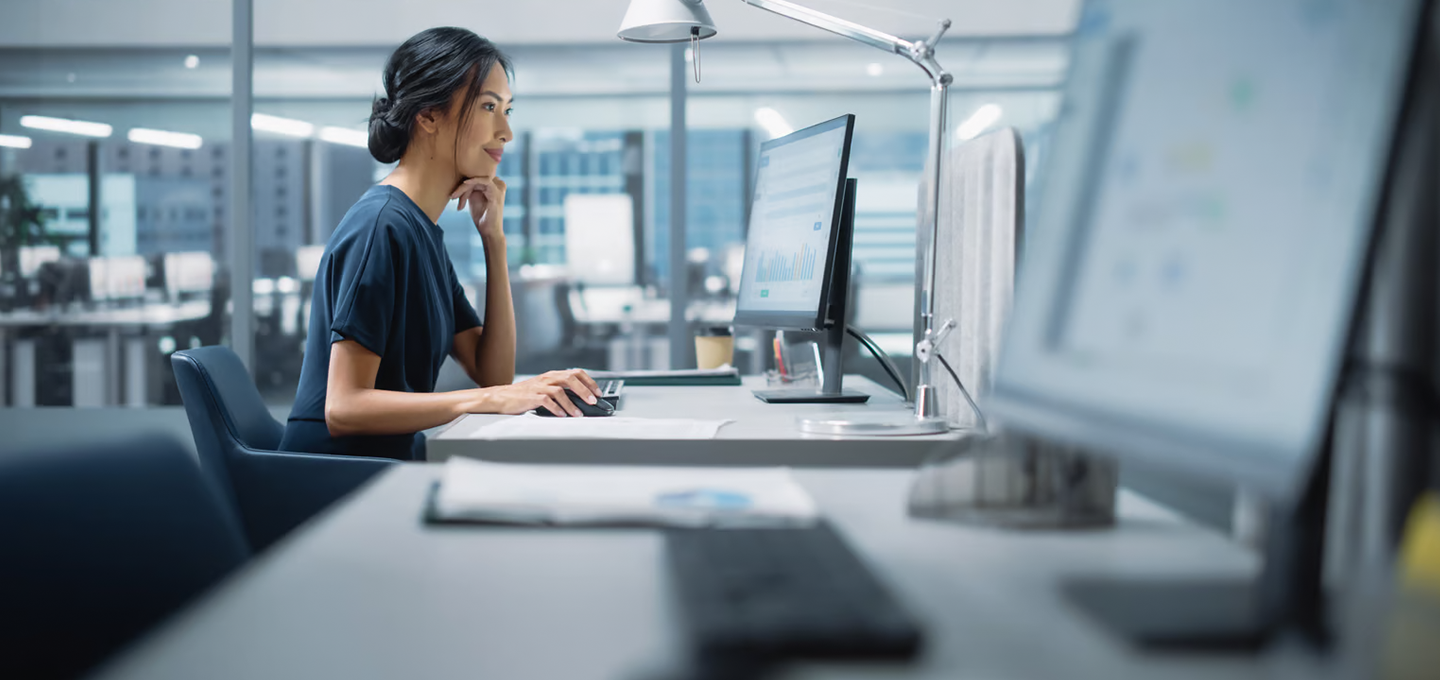 Defining Generative AI
Generative AI refers to any type of artificial intelligence (AI) that can be used to create new text, images, video, audio, code or synthetic data.
Generative AI can elevate people, processes, and technology to new levels of innovation and productivity across your organization—sometimes by leaps and bounds.
The bottom line? Improved efficiency. Accelerated speed to market. Better, data-driven decision-making. Enhanced user/customer experience. Reduced operating costs. Increased sales and revenue.
Below, we explore some key challenges and questions to consider on your AI journey and outline four steps to making generative AI an asset for your business.
New challenges, new questions
The transformational nature of generative AI raises important questions:
How do you assess AI's value to your company and customers?
Where will you get the biggest bang for your investment?
Is your organization set up to leverage AI? What internal processes, governance structures, and cross-functional teams do you need to have in place?
What privacy, security, and ethical issues will you need to address?
How do you enter this fast-moving stream of innovation to harness its power and maximize returns while avoiding unnecessary risks?
Accelerating AI: The path to transformational wins
In the next few years, generative AI will play an increasingly important, often disruptive role across companies, industries, and markets. Given how quickly AI is moving, this is no time for a wait-and-see approach.
Use this time to look at your internal processes and zero in on ways AI can achieve your goals and advance your competitive position. Your approach should accelerate AI innovation, reduce risk, and support rapid prototyping of the diverse use cases of AI.
Here's a quick look at the end-to-end approach we recommend for technology companies—and how it can work for you:
Start with a strategic framework
Rushing into AI without a strategy to guide you wastes time and money and decreases your chances of success. Based on your organization's goals, develop a strategic framework that identifies areas where AI can have the greatest impact and structure processes to achieve them. For instance, a company considering how to enhance the end-to-end customer experience might explore how AI can simplify complex, rigid rules engines by leveraging machine learning to make more flexible, efficient decisions.
Prioritize your AI use cases
Use cases are a smart way to move from strategy to solutions in this first wave of broad AI experimentation. You can test and learn a lot from use cases, then take your findings and iterate on them before you invest time and money in scaling up. We see tech companies focusing on use cases in three areas: customer experience, product development, and product ecosystems.
Use cases where AI excels
The more you think about use cases for AI, the more potential you'll see—and the faster you'll be able zero in on the best ones to pursue. AI excels at creating value and a competitive edge for tech companies in these three strategic areas:

Customer experience
Generative AI supports a new level of personalization for a more tailored customer experience at every touchpoint. Consider use cases in conversational interfaces, personalized recommendations and communications, improved product information, real-time language translation, sentiment analysis and feedback, and content generation. Not to mention the entire lead-to-order process—from sales enablement tools to order management, customer support, and analytics.
Product development
AI can help you develop more innovative products that improve user experience and boost efficiency. Look at use cases in enhanced natural language interfaces, intelligent automation, personalized experiences, rapid prototyping, data analysis, bias mitigation, and other ethical considerations.
Product ecosystems
Move from designing products in silos to creating fully integrated, seamless experiences in environments that can be personalized based on user preferences. Consider use cases in integration and interoperability, voice-activated interfaces, cross-product recommendations, ecosystem-specific skills, data insights, and third-party integrations.

Validate feasibility through design sprints
Implementing design sprints that combine strategic thinking with best practices is essential to making informed decisions, optimizing development processes, and achieving overall superior outcomes. By identifying and prioritizing specific use cases, a structured and collaborative approach should be used to ideate, prototype, and validate solutions rapidly. Your approach should closely align with user needs to ensure that resulting products match expectations and help you gain a competitive edge in the market.
Leverage an accelerator to activate ROI
Accelerators can help you quickly unlock the potential of generative AI by identifying where AI can make the greatest impact in your organization. For instance, we built a data-secure, AI-powered, test-and-learn platform that gives companies the ability to quickly prototype generative AI concepts, explore diverse use cases, and validate capabilities. One of our large-scale tech clients is leveraging this solution level up their overall program and change management capabilities. Thanks to the accelerator, they've been able to improve project success ratios, reduce future headcount spend, and boost ROI.
While AI has significant potential, it requires thoughtful consideration. We strongly advise establishing an AI implementation framework early on, with a gradual expansion as your organization advances its AI capabilities. Furthermore, it's crucial not to overlook aspects like AI governance, interoperability, and fostering a supportive culture within your organization. These considerations maximize the benefits of AI while mitigating associated risks and ensuring long-term success.
For more on how other industries embrace AI, check out these other insights: How Life Sciences are Navigating AI and The Unsexy But Essential Side of AI.
We're with you on this journey
Point B specializes in helping organizations like yours identify the most valuable AI use cases for your specific needs. Our expertise lies in establishing a robust technical foundation to fully leverage the benefits of an AI-enhanced ecosystem while implementing the necessary safeguards to ensure it's used responsibly and ethically.
We're dedicated to helping you take up the challenge and maximize AI's value for your company, people, and customers.