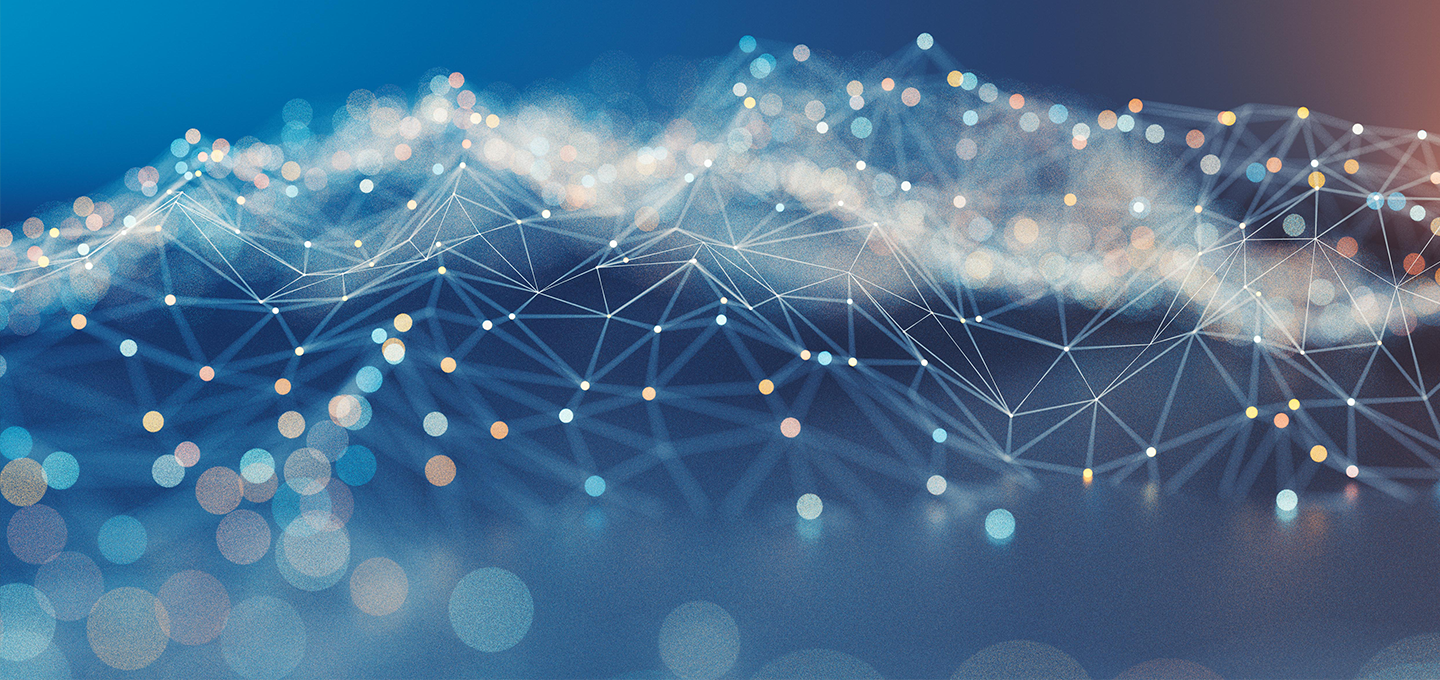 Data is an essential part of Airbnb, who believes that every employee should be empowered to make data-informed decisions. Yet as the company grew, it needed a way to expand data literacy throughout the organization, to provide individuals the ability to think critically, and have the tools available for employees to understand data on their own. The result was the creation of Airbnb's Data University, which provides data education for anyone at Airbnb.1 Data University gives every employee the ability to make data-informed decisions, creating a data literate workforce.
Though companies like Airbnb understand the value of data literacy, not every organization gets it. Data literacy is the ability to draw useful information from data. Data-driven organizations are successful because they understand "why" things are happening versus "what" is happening. They make better decisions, move faster than the competition, and connect more effectively with customers.
What defines a data literate organization?
Data literacy is accepted as a functional skill broadly across the organization with resources and programs in place to build skills in this area.
Employees are able to effectively leverage data as a strategic asset.
Data literacy is part of new-hire onboarding and employee professional development plans.
Employees ask each other, "What does the data tell us?"
Data and analytics consumers understand how data surrounds key business processes, from collection methods, to performance measurement to identifying improvement opportunities.
Data stewards and analytics creators understand why data matters to employees and decision makers.
Begin Your Organizational Journey Towards Data Literacy
How can your organization become data literate? Leveraging the "Envision à Enable à Excite" model is an effective method that can lead to skill development and cultural transformation. Here's where to begin.

Envision: Establish Clear and Unwavering Goals

Making data a priority at your organization requires more than a memo, meeting, or big investments in new technology. It requires clear and unwavering vision from your organization's leaders. To build data literacy:

Envision the future state of your data-literate workforce. 
Define the future state of your business, outlining how analytics solutions and technology will support your workforce.
Organize around business outcomes and relevant use cases.
Understand and measure your organizational needs, use cases, and desired outcomes that improved data literacy will help achieve.
Equip your organization to achieve your objectives.
Ensure your analytical tools are thoughtful investments that enable self-service across your organization and are aligned to your broader data and analytics strategy.
Communicate simply and effectively with data. 
Ensure business leaders make decisions and communicate those decisions in a language everyone across the organization understands.
Enable: Set Baseline Expectations Across Literacy Groups
Baseline trainings and expectations should be in place for all employees leveraging data in any way. When data analytics tools are self-service and accessible, data literacy can thrive. Moving forward with data literacy efforts requires a clear picture of foundations across all your stakeholder groups: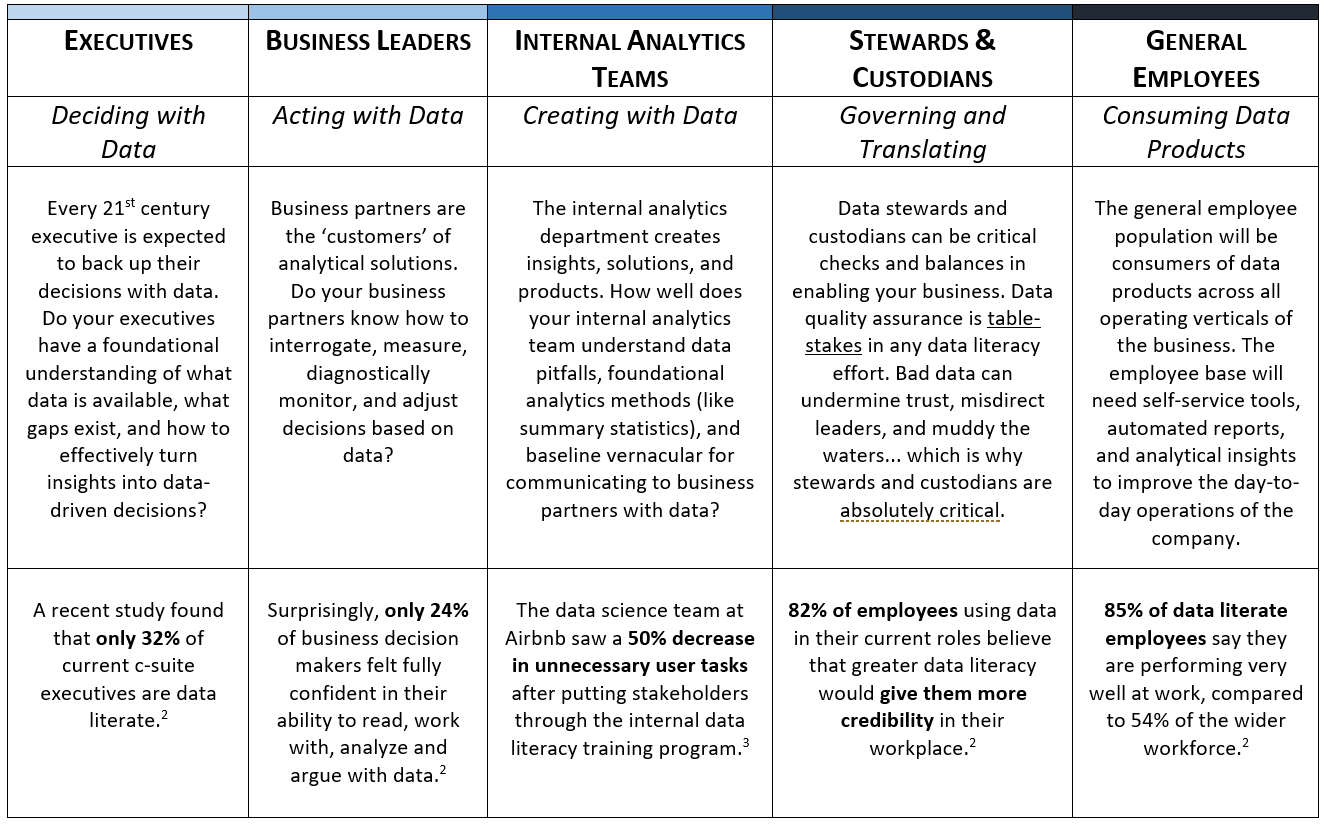 Excite: Galvanize Your Employees
Building data literacy helps your organization evolve intelligently while telling stories in a new way. To build enthusiasm:
Sell the benefits of data literacy. You'll find resistance in the early phases of data literacy efforts, so it's important for your executive team to sell the benefits to business unit leaders. Conveying "what's in it for me" along with the vision and value will help drive early adoption,
Get aligned, get enthusiastic. Find creative ways to get beneficiaries on the same page about the value of these efforts; whether it's through a happy hour, gamification, or fun themes and benefits – enthusiasm can only help the effort.
Make data literacy personal. Successfully understanding, communicating, and leveraging data analytics will make an employee's job easier and their work experience more positive. Identify and share examples that will resonate with all key stakeholder groups.
Install incentives and recognize frontrunners. Finding champions is critical for any new program. Business partners thriving thanks to the use of data analytics will create clear illustrations of successful data literacy in the workplace.
Start and end with business value. Identify the specific value proposition that data literacy offers your organization, establish processes to measure progress, and consistently convey that value to your employees.
The Bottom Line
Data literacy must become a standard skillset across every industry and at every level of an organization. Getting there is a journey, but it's a path that produces great value along the way. Overcoming the data dysphoria haze and talking the same data language across your enterprise will unlock economic value, and for early adopters, create long-term competitive advantages over your peers. Make data literacy an accelerator – not an inhibitor – to your growth story.

*This article was originally published in Information Management.