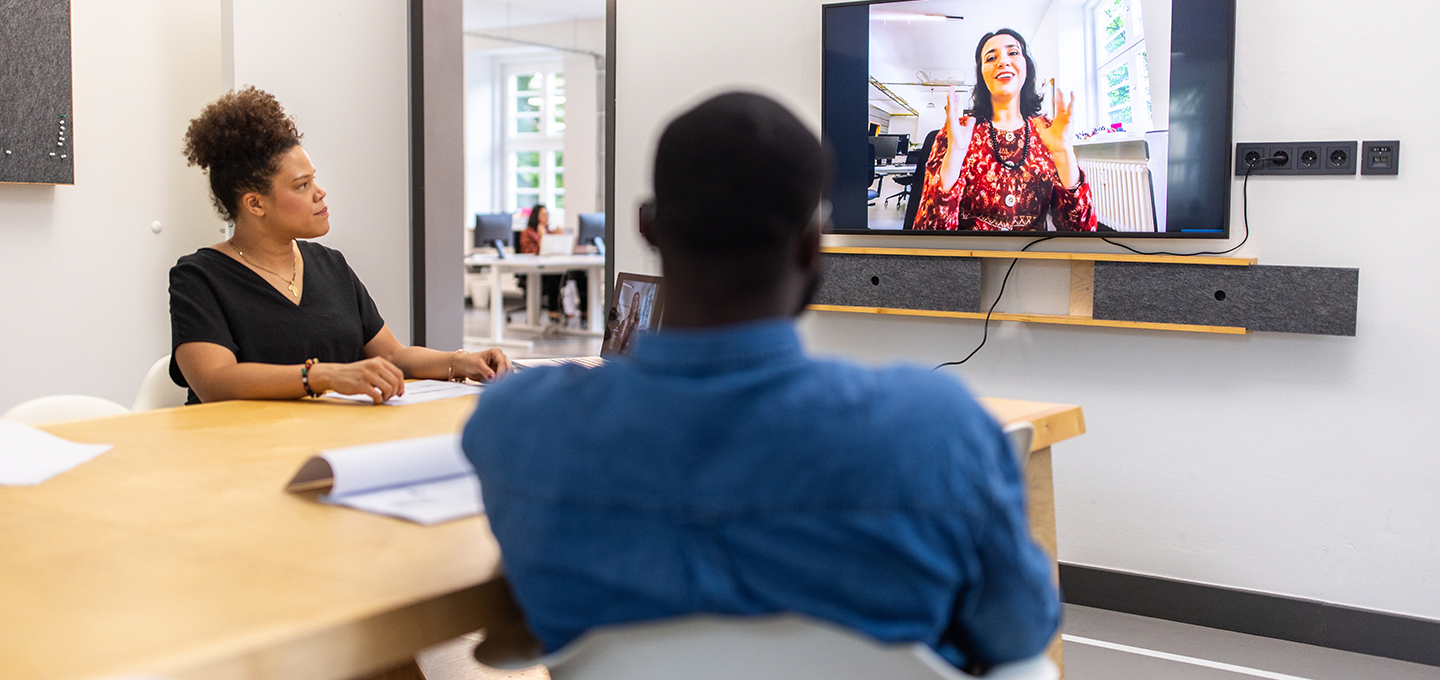 The way work gets done has changed. Two years ago, face-to-face interactions and watercooler conversations were a leading factor in building culture. Employees largely went through in-person recruiting and onboarding. And they were managed by observation with swivel-chair access to leaders and peers.
Today, employees feel isolated. In a digitally enabled workplace where being present is redefined, you have access to national and global talent—but they struggle to see the relevance of your company's mission and goals. They feel disconnected from support systems. And while they have more tools at their disposal than ever, they have less clarity about how to use them (and use them well).
The impact? Employees find it challenging to connect with their teams and the broader culture of your organization.
The solution? Building a workforce strategy—one that's centered around a distributed, digital environment—to ensure your employees are satisfied, productive, and likely to stay.
Hybrid or Remote?
38% of workplaces are hybrid
57% of remote employees want a hybrid workplace and 51% of hybrid workers wish they were fully remote
Productivity Paranoia
87% of employees report being productive at work, but only 12% of leaders are confident in their teams' productivity
Wellness Matters
53% of employees prioritize well-being over work


Engage Your People by Blending Human Behaviors and Digital Tools
The pandemic created massive disruption within markets, industries, and companies. When workforces were sent home, IT organizations felt immense pressure to create mechanisms to improve virtual work. As the pandemic wanes, HR leaders are working overtime to establish hybrid work policies and create compelling reasons to draw people back into the office. Maintaining hybrid arrangements requires a much greater partnership between HR and IT teams to establish clear work expectations and the tools needed to sustain them.
For many industries, these disruptions go far beyond worker preferences. Most organizations need to do more things differently to remain competitive. It's not enough to improve the way work gets done. In some cases—when the business model has been drastically disrupted—organizations need to rethink their entire workforce strategy. If you overlook this imperative, you risk losing talent as fast as you may lose customers.
Uncertainty is sticking around. Invest in building agile talent pools to support an increasingly nimble organizational model that:
Drives innovation, enterprise agility, and continuous evolution enabled by the right leadership and culture to achieve business outcomes at speed and scale with certainty.
Cultivates future-ready leaders at all levels that understand their role in a new ecosystem to welcome change and create a fulfilling experience for their team.
Embraces emerging technologies and instills a digital culture that inspires innovation and collaboration to deliver higher-valued impact.
Offer Tangible, Organization-Wide Benefits
Data shows us that effective, modern workplaces deliver real value for your business.
Hybrid workplaces support 10% higher retention for supporting flexible work policies and deliver 13% more productivity.
Employee-centric brands continue to be recognized as employers of choice.
Lack of flexibility is the most common reason why millennials quit their jobs.
And 1 in 3 employees would switch employers to work remotely.
Modern work models reduce time spent on ineffective tasks. They see a 39% increase in high value activities, 61% decrease in time spent on inefficient tasks, and a 25% reduction in ineffective tasks. This can translate into big savings for your organization.
Build Intentional Workforce Strategies with the Right Technology
Your people are at the core of a modern work experience. Stay focused on understanding the employee journey and common needs at each stage. Onboarding into a new role is time of discovery, rapid learning, and building new connections. As individuals gain proficiency delivering with their teams, their focus shifts towards development and growth as they contemplate what's next. Understanding, acknowledging, and planning for the psychological element of the employee journey is key to building processes and technologies that support your workforce. To enable the right behaviors, focus on technologies that improve how people connect with each other and align expectations towards common goals. Explore the different stages of the Modern Work Employee Journey and see how Microsoft Viva can unlock value for your business.